There are now many ways to make additional money from the comfort of your own home. Read on to find out how and why you can make more money.
What is the point of making more money?
From a personal finance perspective making more money, or increasing your income streams is now seemed a necessity in order to ensure your future self is better off. This additional income can be used to invest, contribute to your retirement accounts or pay off any debt quicker. Moreover, building on your income streams means you can rely less on your 9-5, as your income is spread over more than a single source.
Points to consider before starting
How much time can you dedicate to making additional income?
Do you have underlying experience / interest that could benefit you? If not, how will you go about gaining the right experience?
How much money do you want to / plan to make?
Do you have any transferable skills that will you can utilise?
Will you require any assistance, such as marketing or tracking income / expenditure?
Make Money from Home Ideas
Resell Items
Do you have any items sitting at home that you have not touched for a while? If they can not be donated to a charity store, are you able to give them a second home instead of sending them to the recycle bin. For more ideas on how to reduce the cost of your clothes shop – read more here.
Vinted is a great website and app to sell clothes on, whilst I have used Ebay to sell unwanted items around the house.
Online Surveys
When I first started looking for ways to bring in additional income whilst at home, I used online survey sites. Examples include YouGov, Influence App or my favourite one – Prolific. For a list of other survey sites – check out this post.
However I have found this source of income to be rather time consuming for the amount of money that is returned.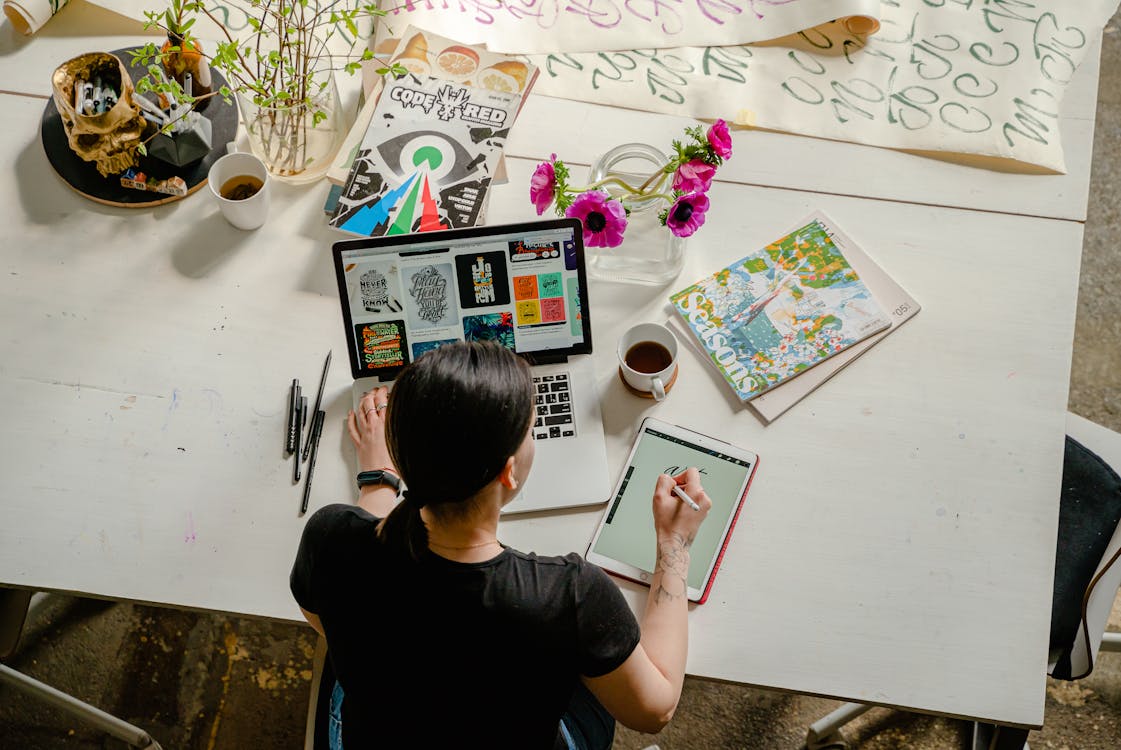 Market Research
Another popular way to make additional is to take part in market research focus groups. Most of them take place on online video calls.
Market research is when you share your opinions and get paid in return for your time and effort. Your views can ultimately influence new products, services and vary from online interviews, phone calls, focus groups and online communities!
Topics vary and can cover anything from banking, pets, food products, car insurance or technology.
My experience of market research has been positive. My highlight so far was being able to help contribute to a new product for a well know chocolate brand and was provided with a lot of chocolate to help in the research!
Take a look at – Research Opinions, Take Part in Research, Angelfish Opinions or Trend Market Research where you can view current market research opportunities after signing up.
Digital Products
After the initial time and costs spent creating and selling the products, they can provide a great form of passive income.
Passive income is income that requires little or no time to make, aside from the time it takes to set it up initially. It is the opposite of active income which is where your time is directly translated for money (such as your 9 – 5).
Platforms such as Etsy allow you to sell your digital products such as school worksheets, ebooks, guides to specific topics.
Create and Sell Items
From coasters, candles and cookies – if you got a skill or you enjoy making something – why not sell it?
Tutoring / Teaching a Language
Teaching English online is in high demand now and so are students seeking additional lessons alongside school lessons, through individual, tailored sessions. These can be carried out over video call and able to connect you with potential student globally.
I have been both tutoring and teaching English since I was a university student – and can safely say there is a high demand for both. Take a look at websites such as TutorHunt or Preply who can direct students your way, or advertise in your local newsletters / shops to gain students yourself.
---
The list of ways to potentially make additional income whilst at home does not end there, take a look at:
Blogging
YouTube
Translation services
Creating online courses
Freelance work – such as writing
Remember the points to consider, at the start of this article before starting. And enjoy!